Matthew Sikes is a human police officer and partner of George Francisco. Matthew Sikes is divorced and has a daughter.
Both, he and George are close Friends, even if he sometimes acts quite bemused about Tenctonese customs.
When Matthew and George met for the first time, he refused to be the Partner of a "
Slag
", since his former partner, Sgt.
William Tuggles
, was killed during a gunfight with a Tenctonese Criminal. Later however, after he worked a while with George, he came to the conclusion that he was wrong about his prejudice towards Tenc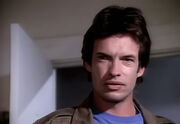 tonese and the two became very close friends.
He has an on-off relationship with Dr. Cathy Frankel, a newcomer bio-chemist which remains sketchy during the TV series. During the TV movies, their relationship blossoms and ends up with them taking 'sex' classes.
Ad blocker interference detected!
Wikia is a free-to-use site that makes money from advertising. We have a modified experience for viewers using ad blockers

Wikia is not accessible if you've made further modifications. Remove the custom ad blocker rule(s) and the page will load as expected.